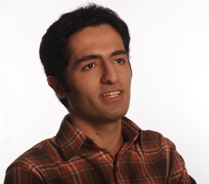 Vahid Montazerhodjat
Photon-Limited Time of Flight Depth Acquisition: New Parametric Model and Its Analysis, S.M. thesis, Department of Electrical Engineering and Computer Science, MIT, February 2013
Vahid Montazerhodjat received his Bachelor of Science in Electrical Engineering with honors from Sharif University of Technology in 2010. Vahid was the recipient of the Irwin Mark Jacobs and Joan Klein Jacobs Presidential Fellowship at MIT for the 2010-'11 academic year.
At Sharif University of Technology, Vahid worked as an undergraduate researcher at the Multimedia Laboratory and the Information Systems and Security Laboratory (ISSL). He contributed to several projects in the area of sparse signal processing and Vehicular Ad-hoc Networks (VANET), specifically proposing some deterministic sampling matrices for compressed sensing and mobility modeling of VANETs for sparse situations.